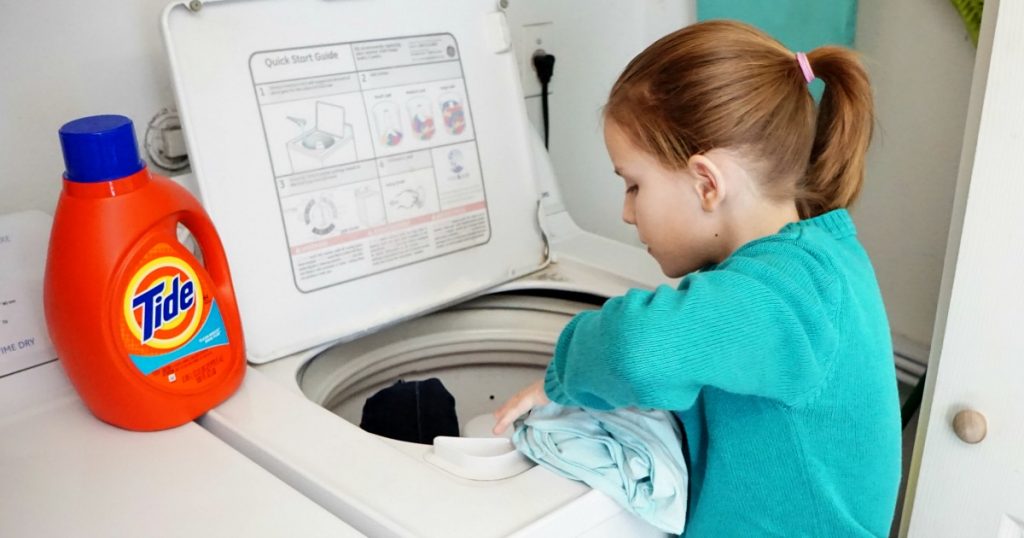 Seriously. This is one of the best things you can do for your child. Everyone needs to learn how, even your boys. Laundry is not just for females. It is important to learn how to clean your clothes. Kids grow up, and move out, and they should know how to do the basics of laundry.
LEARNING LAUNDRY AT AGE 12
My mother in her wisdom made us do our own laundry when we were 12 years old. When she informed all three of us that we would be learning how, we protested, and said there was no way we could remember. So my mom brilliantly WROTE OUT the instructions, and taped them to the wall in the laundry room. Gulp. No excuses now! She wrote it out in red pen, and when I close my eyes, I can still see that list hanging there. I referred to it many times, as I was so unsure of settings, and wanted to make sure that I didn't ruin my favorite blouses by washing in too hot of water.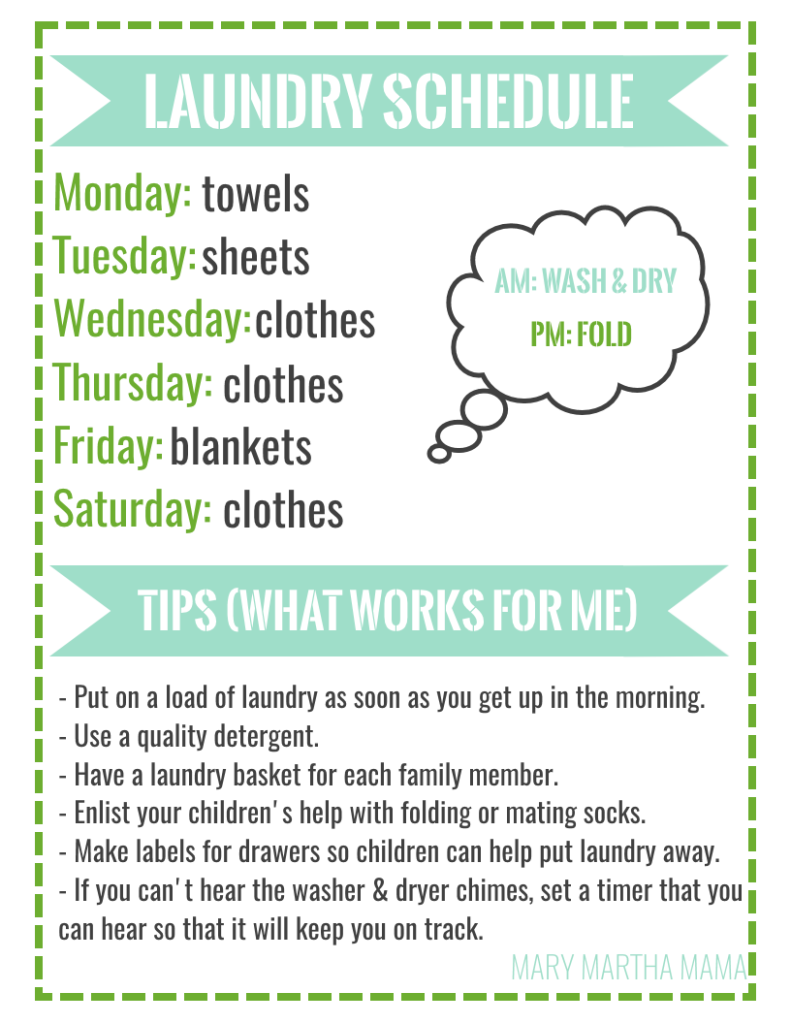 DOING LAUNDRY IS EASY
Laundry is not hard. It's easy. This post is to help you tackle your laundry, and to encourage you to teach your kids as well. There are many different machines out there, and some of them have different names for the cycles, but bottom line is that laundry is pretty basic, and once you know what the steps are, you'll be washing everything perfectly every time. I had a friend who once posted a picture of a laundry symbol, and said, "what does this mean?" I told him the answer, and it again made me think that we need to make sure we don't neglect telling our kids on how to do something so easy.
TEACH YOUR KIDS TO SORT THEIR CLOTHES
When my son was young, I had him sort his clothes. He didn't have to do his own laundry yet, but when he was three and four, I made him grab his laundry basket, and when I sorted my pile of clothes, he added his to the piles. We always had three piles: Whites, Colours, and Darks. This is a cardinal rule that must never be broken! These three colour piles are all washed in different water temperatures, and if you want to keep your whites white, you will never, EVER wash them with anything else but whites. My son loved sorting his laundry, and sometimes I found his laundry in piles in the hallway before I had even started. He loved doing it! And of course, when he got older, he did his own.
So, decide today to help your children understand how to do laundry, including washing their bedding each week, and below find my tips to help you! You may learn a thing or two yourself!
LAUNDRY CHART
To start off, here is a laundry chart that shows what the various symbols mean, that are on tags on the inside of your clothes. Make sure that you look at all articles of clothing before you wash them, and make sure you are not disobeying any of them. Those instructions are there for a reason. If it's a cold water wash symbol, wash in cold, or you will ruin it.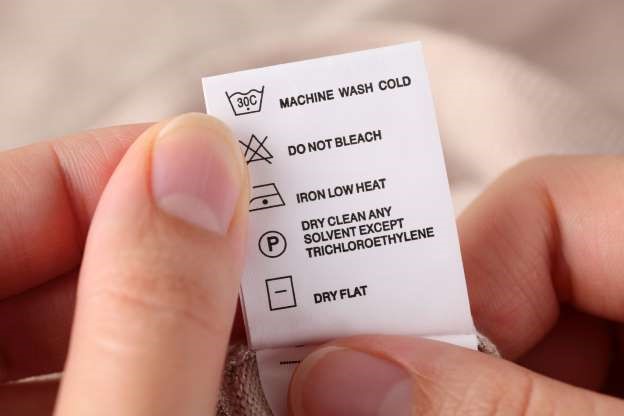 Here is a complete chart of symbols you might encounter: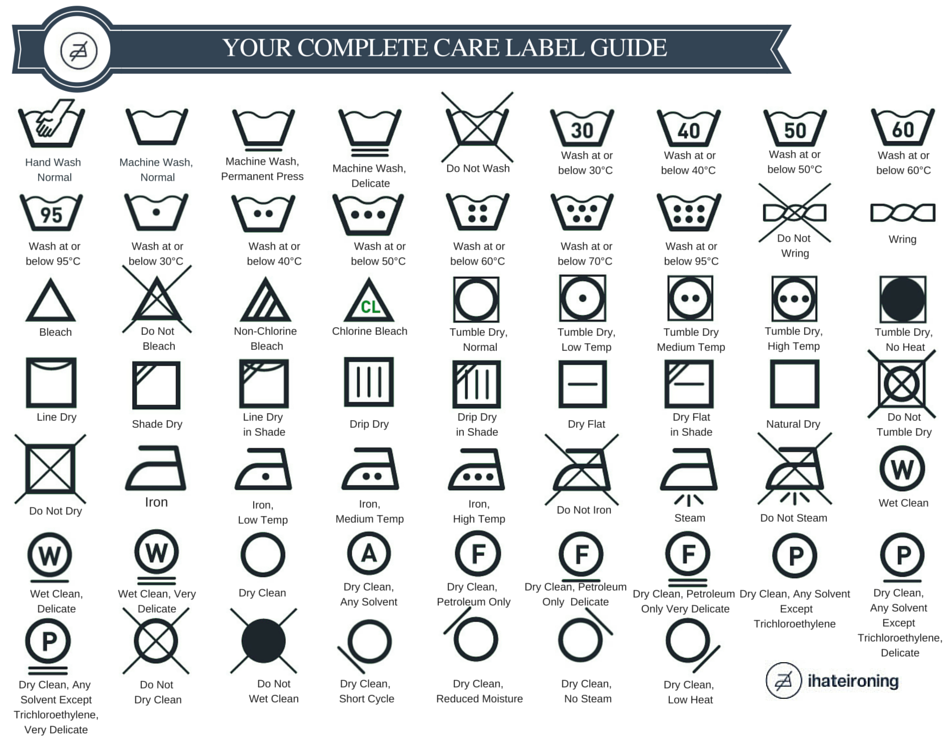 TIPS FOR LAUNDRY:
SORT CLOTHES INTO THREE PILES
Put your clothes in 3 piles of whites, colours and darks
CHECK THE CLOTHING LABELS
If you have something that says wash in cold water, or gentle cycle, or dry clean only, do NOT put it into the regular pile. I ruined a very expensive perfect blouse by washing a rayon fabric in hot water, and it shrunk it and turned it wrinkly. I was devastated, it cost me over $50 (when I was 12 years old) and it had taken me months to save up that money. One wash later, it was ruined. A very hard lesson to learn.
CHOOSE THE RIGHT WASHER OR DRYER SETTING
On the washer/dryer: There are many different cycles you can choose, and you need to pick the right one that is appropriate for what you are washing. If you are washing towels for example, you want them on HOT water, but you do not want to use hot on your colours, or you will cause them to fade over time. If you have a button that says permanent press, that means you will not have to iron your clothes if you use that setting. Just make sure you take them out of the dryer right away when it finished, and hang them up, otherwise they will get wrinkly, and you'll end up having to iron anyway.
USE THE RIGHT DETERGENT
You should be using a mild detergent, especially if you have young kids. You do not want to use something harsh and abrasive on blankets, or sheets. Some detergents will cause an allergic reaction, I know my sister has a reaction if she uses Tide, and breaks out in spots. I on the other hand do not, and I personally use Tide myself. However, if she ever comes over and stays overnight, then I need to re-wash the bedding she uses so it's allergen free to her.I would suggest if you have kids under the age of twelve, then use a softer detergent, like Ivory Snow, or ALL baby.
USE THE DELICATE CYCLE
If your clothes say wash delicate, then do it. It's worth the time and effort. Delicate clothes should also not go into the dryer. Just gently squeeze out the extra water, and lay them flat to dry, or hang them up on a wooden or plastic hanger, so they don't get misshapen with a wire hanger. Your clothes will last much longer if you properly care for them.
CHECK YOUR WATER TEMPERATURE
You should only be washing your towels, and whites on HOT. Everything else should be warm. You will ruin clothes faster than you can say ruin by continually washing on hot. You will cause all sorts of damage to your clothes, they will change shape, necklines will droop or be stretched, and colors will fade fast. It's a sure way to ruin your favorite blouse, or hoodie.
DO NOT MIX COLOURS!
Do not ever wash your colors with black fabrics. Black will cause your clothes to get a dingy look. I once had a black sock sneak into my load of whites, and it turned everything grey. It was awful. I re-washed everything, but the damage was done. I ended up throwing away lots of my socks because they were such a dingy grey colour instead of being bright white. Ugh. It's only happened to me once though, thankfully! Even if you don't have a full load to throw in – say you only have 10 pairs of underwear and five pairs of socks – wash them separately ANYWAY instead of throwing them in with a pile of colours. Always follow this rule, and your clothes will thank you for it, AND you'll look great.
SOAK YOUR STAINS
If you get something on your clothes, you need to treat it, and the sooner the better. I once spilled orange pop all over my white blouse. I immediately changed, and then put spray and wash on the stains. I washed the blouse, but it still came out with organge spots. Because the blouse was still wet, I sprayed on more spray and wash. I washed the blouse again. There were less orange stains, but then I repeated the process. I kept doing this until every single orange stain was removed. Be careful and make sure that you check each garment that comes out of the washing machine that you pre-treated with stain removal. If it's not out, don't put it in the dryer, or it will become a permanent stain. Keep soaking, and re-washing in order to get it out.
BE CAREFUL WITH HOW YOU TREAT THE STAINS
Some stains need extra attention. You need to use cold water and some serious scrubbing to remove blood, chocolate, and mustard. If you want to remove grease, then use a pretroleum based soap to scrub first (Dawn). I personally always scrub blood stains with a bar of soap, and then a scrub brush to remove them. Spray and wash generally doesn't do anything for blood stains.
DON'T USE TOO MUCH DETERGENT
In most packages of laundry detergent, they give you a huge scoop. Guess what, you do NOT need to fill it to the brim. If you do, it's actually causing harm to your washing machine. Excess soap will swirl around on your clothes, getting stuck and gathering in spots that become a goopy mess, and then those clothes end up in the dryer. You pro
DON'T OVERFILL THE WASHER WITH CLOTHES
If you stuff your washer too full, it will not be able to clean your clothes properly. They will clump together, and they need to have space to move around freely to get rid of dirt.
CHECK YOUR DRYER HEAT
You do not need to dry your clothes on high heat. This will also cause your clothes to end up mishapen and stretch. Keep an eye on your clothes, don't over-dry.
CLEAN OUT THE LINT
It's dangerous to let lint build up, it is the number one cause of fires in homes – a lint build up in the dryer left unchecked. Each time you take out a load, clean out your lint collector, and throw it away.
YOU ARE NOW READY TO DO LAUNDRY!
Okay, now I think you are ready to go wash some clothes, towels, or bedding!
And…..why don't YOU write out a list for your own kids, and have them start learning how to do laundry today! They can be excellent helpers in sorting, and folding, and when they are old enough, can do it all themselves. Post the list on the wall, so they can follow the instructions when you're not home.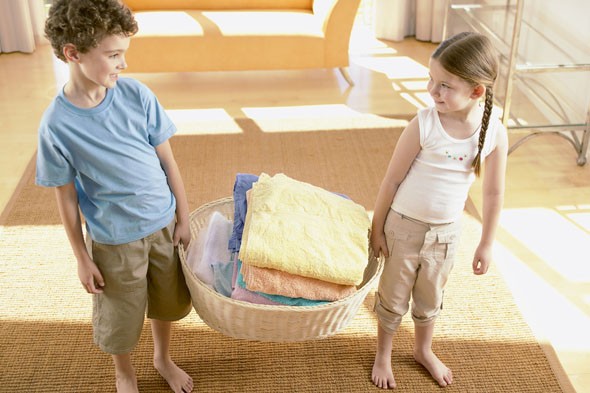 EVERY BEDROOM NEEDS A LAUNDRY BASKET
Make sure your child has a laundry basket in their room, and help them to learn how to put away their clothes at night when they get ready for bed. If the clothes are dirty, they go into the bin, and if the clothes have no stains, fold them up and put them away. Start teaching your kids good housecleaning habits TODAY!
ALL CHILDREN NEED TO LEARN HOW TO DO LAUNDRY
All children need to learn how to do laundry, it's up to you to teach them!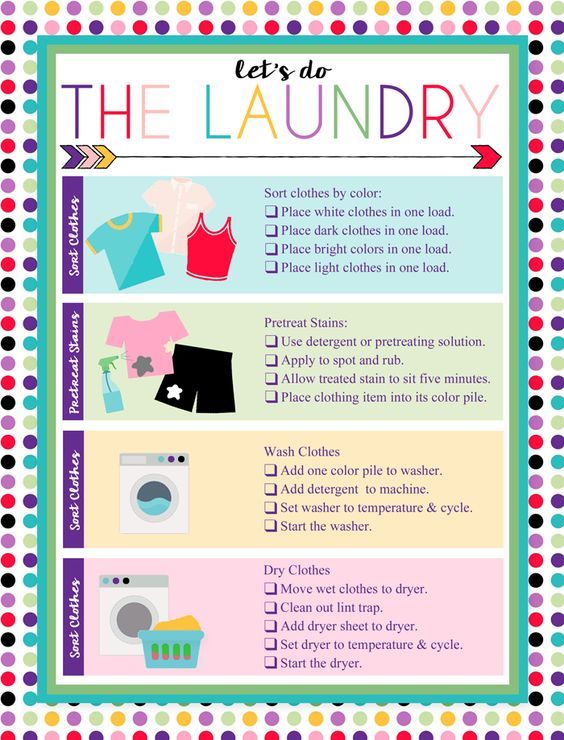 :