I am fairly new to investing. When I was first married, I was very restless, and felt that I should be doing something to save money, and invest for the future. All I knew at the time was that I should have RRSP's, and so one day I looked up financial planners in the phone book, (yellow pages actually – look it up on google if you have no idea of what I'm talking about) and I randomly called and made an appointment with some guy in a firm downtown langley.
After meeting him, I made sure that I got my will done, life insurance, and set up RRSP's that would help in retirement. And that's as far as investing I went. I am a great saver, and I know how to save save save, but investing in the stock market was totally foreign to me. Years later when I started a job at MDA, they had an employee share purchase program. I thought it was a great idea, and eagerly signed up for it. Buy company shares for a discount? You bet, I'm in! When I eventually left that job, I needed to move my shares from the company which held them for me, so I was forced to open my own investment account. I knew that my sister Debbie invested all the time, so I called her for advice, and she sent me to CIBC – for an Investor's Edge Account. YAY, thank you Debbie!

I transferred my shares, and there they sat, until I sold them to pay for a trip to Israel, Egypt and Jordan, for my hubby's 50th birthday. Once those shares were sold, I ended up closing that account at CIBC, and didn't own any other stocks, and I didn't work at MDA anymore.
Fast forward seven years. I ended up going back to work at MDA. I love reading anything financial, and devour any articles on saving money, or stocks, or RRSP's. One day I stumbled across an extremely well written article by Joshua Kennon (I've written about him in my blog called "My favorite Go To Blog – Mar 20, 2019 – go have a read) and it inspired me so much that I immediately went back to CIBC and opened an account. I started writing a list of companies that I liked, ones that I thought were stable, and then I started doing research on them. I only wanted companies that were considered "blue chip stock", and paid dividends.
DEFINITITION OF BLUE CHIP STOCK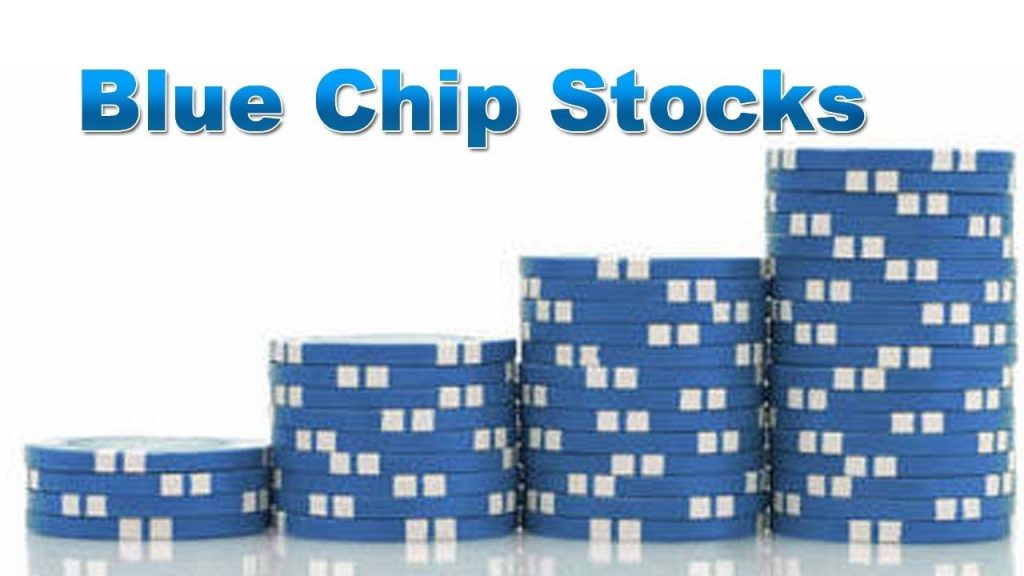 A blue chip stock is the stock of a large, well-established and financially sound company that has operated for many years. A blue–chip stock typically has a market capitalization in the billions, is generally the market leader or among the top three companies in its sector, and is more often than not a household name.
SOME EXAMPLES OF BLUE CHIP STOCKS:
Fedex (Federal Express)
Microsoft
Amazon
3M
I compiled a huge list, and because I've always been taught to diversify, "don't put all your eggs in one basket" – I made sure that I had a comprehensive list of different types of stocks, and decided that I would start buying shares.
Would you believe that you do not need a whole lot of money to invest? You can actually buy only one share at a time. Wow huh! You can buy whatever stock you want, whenever you want (well, when the markets are open of course), you do not have to have a stock broker. You can do it all yourself! Now, how awesome is that! CIBC has the lowest fees out of all the banks, theirs are $6.95 every time you buy or sell.
DIVERSIFY YOUR STOCKS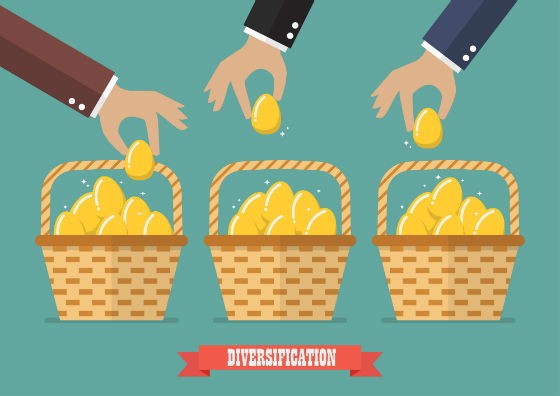 Here is a list of areas where you can choose to invest in:
Conglomerate

3M, General Electric, Berkshire Hathaway

Financial

Any Canadian Banks, Goldman Sachs, Amex, JP Morgan Chase

Alcohol & Tobacco

Philip Morris, Diego, Brown Forman, Canopy Growth, Aurora, Aphria

Pharmaceutical and Healthcare

Johnson & Johnson, Great West Life, Pfizer, Suncor

Food & Beverage

McDonalds, Pepsico, Coca-Cola, Kraft Heinz, Saputo, McCormick

Consumer Staples

Clorox, Colgate Palmolive, Procter & Gamble, Unilver

Retail

Tiffany & Co, Walmart, Canadian Tire,

Energy

Exon Mobile, Chevron, Royal Dutch Shell, Enbridge, Ballard Power Systems

Technology

Cisco Systems, Shopify, Microsoft, Telus, BCE, IBM, Intel, AT&T, Opentext, Fitbit

Transportation

Bombardier, Boeing, CN Rail, Westjet, Kinder Morgan, Lockheed Martin, Union Pacific

Sporting Goods
Media

DHX Media, Facebook, Walt Disney Co, Alibaba, Snapchat

Mining

Kirkland Lake Gold, Lucara Diamond

Heavy Equipment
Chemicals
MY INVESTING STRATEGY – DIVIDEND INVESTING
My strategy is to invest in stocks, and eventually live off the dividends from those stocks. I am NOT in the stock market to sell. I am in the stock market to buy, and make money from my money.
Definition of Dividend:
A sum of money paid regularly (typically quarterly) by a company to its shareholders out of its profits (or reserves).
Now, I don't know about you, but making money from my money is the best idea ever! With interest rates so low, you're not going to make a pile of money from it sitting in a regular bank account. No – you're going to make money from INVESTMENTS – ie: the stock market.
Most companies pay every quarter, so that means every 3 months, you are going to receive dividends. How wonderful is that! I have a spreadsheet that I track how much money in dividends comes in each month. My goal is that each month will have roughly the same amount of income coming in. So – if I happen to have a month where it's lower, I'll buy more of those particular stocks that pay out in that month. I want to have it balanced, that's my plan, but you can do whatever you want!
SET A BUDGET FOR INVESTING AND STICK TO IT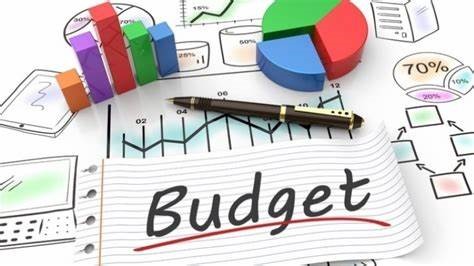 One of the best things you can do is set yourself a budget. Don't say you don't have any money to invest. Yes you do! Stop eating out! Stop drinking expensive coffee! Stop going to the movies! There are many ways you can find extra money to invest. Guess what I did? I stopped spending money on Pokemon Go. Yup. Pokemon Go. I was addicted. I'm not even going to talk about how much money I spent on the game, and the incubators and the raid passes, and the lucky eggs. Nope. Instead of spending the money on the game, I'm now buying at least 5 shares of coke per month with that money. Now – that's being SMART! Find your area of monetary weakness, and capitalize on it. Take the money and buy some stocks instead!
Our budget right now is only $250 per month. That's all we can afford. It doesn't buy very much, depending on which stocks I buy. If I choose to buy shares of McDonalds, it means I can only buy 1 share, because the average price right now for McD's is $190 per SHARE! OUCH! But – if I want to buy coke, it's only $46 per share, so I can buy 5 shares. Or say I want more CIBC shares, they are currently around $109, so I would only be able to buy 2 shares.
WHO CARES! Bottom line is – when you own a share, you own part of the company. Doesn't matter if you have ten shares, or ten million shares. You are now considered an "owner!" And you will receive dividends! (Well, only if you buy shares of a company that pays dividends.)
THE STOCK MARKET IS NOT SCARY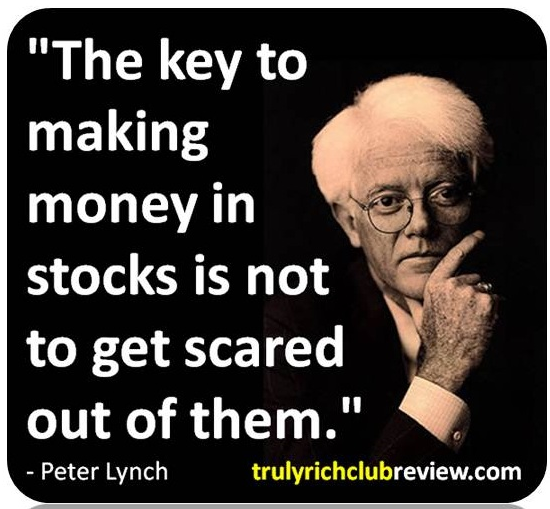 Seriously, if you have never bought a share in your life, you don't have to freak out and think you can't do it. The stock market is not scary, no matter how much you've heard about it. The only thing that is scary is if you start buying willy-nilly without doing any research. You need to make sure that you are not taking any financial risks that you are not able to bear if the market goes sideways for a while.
If there is anything I am sure of, it is this: the market always recovers. Always. Even if it takes a year or two, it always comes back up. Always. So – sometimes you will have to ride out a storm, but you should be prepared (have financial reserves) ready for when it does happen, and not rely solely on your market investments.
SHOULD YOU BUY POT STOCKS?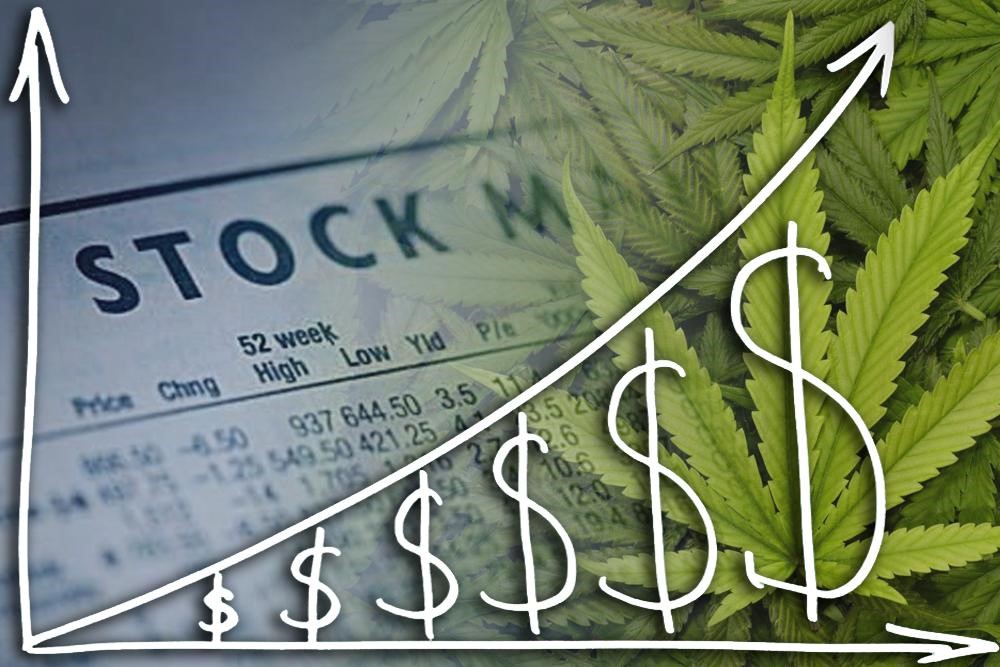 Well, that's totally up to you! I have my own ideas about it, which I'll share with you. I think it's an undervalued market right now. Now that Canada has legalized pot, there are tons of companies that have started up. Right now, we are at the beginning of these companies. Think of them like Amazon. Some of them will flourish and do really well, some will drown and peter out, and some will get taken over and become part of another company. There are a kazillion different marijuana companies out there, so which one do you choose? It's hard to know.
What I tell people is: if you are going to buy pot stocks, treat it as throw away money. Seriously. Don't spend any more than you are willing to lose. The markets are so volatile right now, that pot stocks go up, and down, up and down, up and down. If you don't have the stomach to watch, then I suggest not buying pot stocks.
If you can buy them, and hold onto them for the long haul, then go for it. As I said, we are in the beginning stages right now. Ten, fifteen years from now these new companies will have grown, and will have stabilized. They will have expanded. Their valuation will go up. You will kick yourself for not investing now. That's my advice. I bought stocks when they were at $2, and they have gone up exponentially. I have "made" a lot of money. But as my wise sister Debbie has repeatedly said to me, "Donna, you haven't made anything unless you sell." This is true!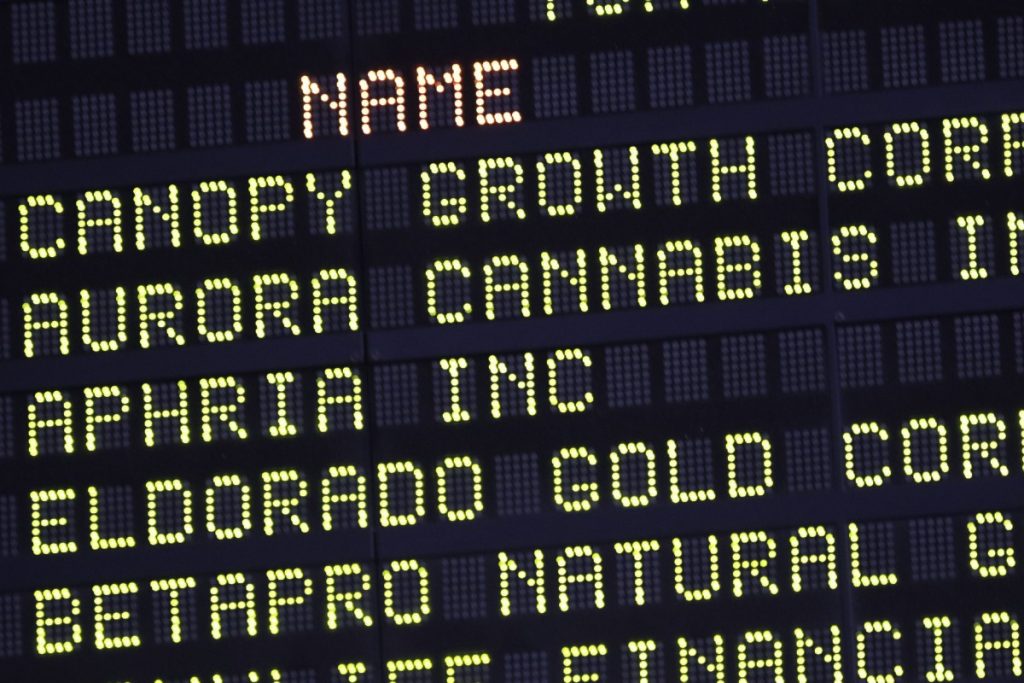 I personally have invested in Canopy Growth (WEED), Aphria Inc. (APHA) and Aurora Cannabis Inc. (ACB)
I know others who have invested In Tilray (TLRY) and Cronos Group (CRON). It really is up to you to poke around, do some research and figure out IF you want to invest, and WHICH COMPANY you want to invest in.
BUY YOUR SHARES WITH THE INTENTION TO KEEP THEM FOREVER
Seriously. You and I are not stock market pros. If we tried to buy low and sell high, we'd miss the mark over and over again. We'd lose money. Heck, we can lose money even if we aren't buying and selling. The market is always a risk, so make sure you don't put ALL your money into it.
If you keep your stocks, they will always pay dividends. Your stocks are going to be higher five, ten, fifteen, twenty years from now. You never need to sell, you can gift your shares to your kids, or grandkids, and they can receive the dividends instead. How awesome is that!
DONNA'S LIST OF TOP 25 CANADIAN BLUE CHIP STOCK COMPANIES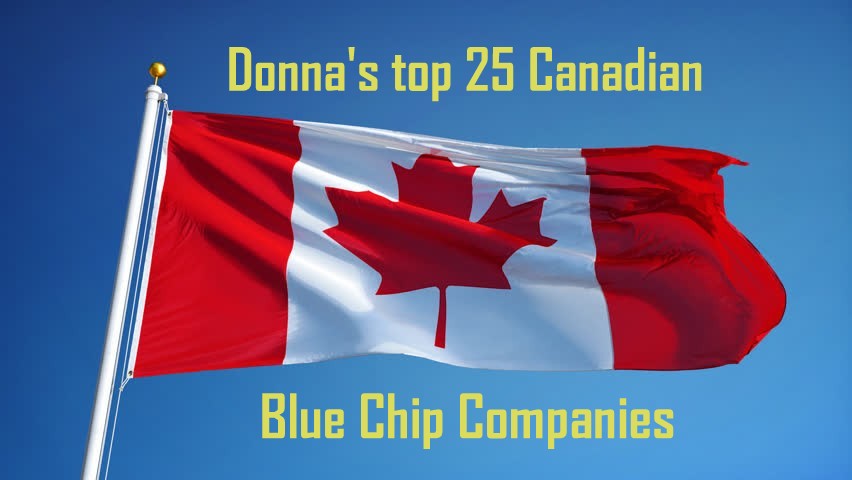 The ones that are bold are the ones I currently own:
Bank of Nova Scotia
Toronto Dominion (TD CANADA TRUST)
Royal Bank
National Bank
CIBC
Sun Life Financials Inc
Brookfield Asset Management Inc.
Enbridge
TransCanada Corporation
Suncor Energy Inc.
Imperial Oil Ltd.
BCE Inc
Rogers Communication Inc
Telus Corporation
Fortis Gas Inc.
Emera Inc.
Agrium Inc
CGI Group Inc.
Saputo Inc
Loblaws
Metro Inc.
Canadian Tire
Cineplex Inc
Thomson Reuters Corp
Canadian National Railway (CNR)
DONNA'S LIST OF TOP U.S. BLUE CHIP STOCK COMPANIES
This list is different, in that I picked out the top companies that I am PERSONALLY interested in. Some I don't have yet, but do want to buy. I've bolded the US stocks I currently own. Remember, do your own research, but this is a place to start.
3M Company
AMEX (American Express)
Apple
Caterpillar, Inc
Chevron
Clorox
Coca-Cola
Colgate-Palmolive
Exxon Mobile Corp
Kraft-Heinz
Fedex
General Mills
IBM
Johnson & Johnson
JP Morgan Chase
McDonalds
Microsoft
Nike
Pepsico
Pfizer
Philip Morris International
Proctor & Gamble
Royal Dutch Shell
Walmart
Walt Disney Co.
Wells Fargo
Start dividend investing in blue chip stocks today, and reap the dividend rewards!