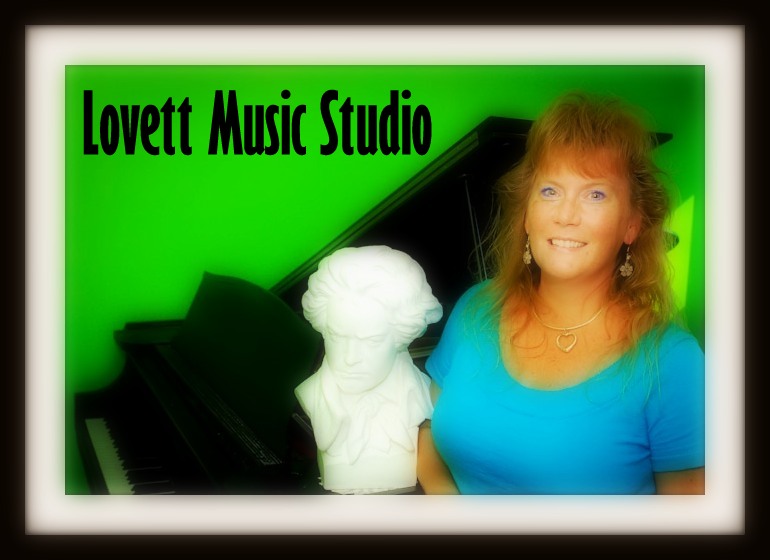 Donna Elaine Lovett, A.R.C.T.
Donna Elaine Lovett (nee Bayley, nee Clark) holds an ARCT from the Royal Conservatory of Music as a Piano Teacher. Donna was born in Vancouver, British Columbia Canada, and became interested in learning to play piano when she was three. It was at this age she demonstrated her perfect pitch ability by playing the "piano game" with her mother: Her mom would play a note on the piano while Donna's back was turned, and Donna could correctly go and play the right note every single time. It took two years of asking for piano lessons before she started at the age of five.
ROBERT EDWARD BAYLEY
Her father, Robert Edward Bayley (Bob) also played the piano, and was an accomplished pianist. He played for the singing group, "The Ambassador Singers", who performed all over BC and Alberta.
After hearing a violin soloist perform one Sunday at church, Donna became entranced and asked for violin lessons as well. It took years of begging, but she finally started violin at age nine and continued training on both instruments as well as taking theory lessons. Donna took RCM examinations for all disciplines during her school years. She also started composing at a very early age, and often wrote songs for her friends.
MUSIC AFTER GRADUATION
Upon graduating from high school, Donna continued her musical studies at Douglas College in New Westminster, British Columbia Canada, and finished a two year Bachelor of Music Program, studying piano with Ellen Silverman and violin with Angela Cavadis. Donna also played her violin with the UBC Orchestra, and the New Westminster Symphony Orchestra during this time.
LOVETT MUSIC STUDIO
Donna started her own private music studio, and has been teaching piano and violin lessons for over twenty five years. She started writing piano compositions at the request of students who wanted "nicer" sounding harmonies.
FOUR PIANO SOLO BOOKS HAVE BEEN PUBLISHED SO FAR
Donna has already published four piano solo books: Pieces of Me Book I, Pieces of Me Book II, Stephen Joseph Harper, 22nd Prime Minister of Canada, and Sad Songs: A Book of Minor Tales. These are available for purchase as a full book, or individual sheet music.
Donna loves working with children, and also has her Early Childhood Education Diploma. She has worked with children for years, and her passion is to introduce children and adults to the joys of music!
FINGER FURY: COMPOSED AND PERFORMED BY ME!
ROYAL CONSERVATORY OF MUSIC – CONTEST
I entered a contest that the Royal Conservatory of Music had years ago, and I made the top ten, and then the top five. It was based on votes alone. Although I didn't win the top prize, I was thrilled to have made it so far along in the contest. This piece is actually meant to be played much faster than what I performed, but due to problems with my hands, I was unable to perform it up to speed. I'm sure all the piano whizzes out there could do it though! I challenge you!
I still need to publish the book "HANDTASTIC" that this song is part of, and so it will be for sale eventually. If you contact me separately, I'm sure we could arrange something if you really wanted it.